2022 Irene Adler Prize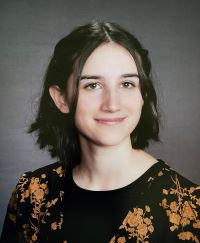 Emma McGill is the winner of the 2022 Irene Adler Prize for women writers for her essay, "Unearthing Lost Mementos." It appears below.
McGill, who receives $1,000 toward her education, is seeking her B.A. in English with a focus in creative writing at the University of Regina. She is the first Canadian winner in prize history.
Honorable mentions go to:
Yvette Saenz ("Diary No. 1"), who is pursuing her M.F.A. in creative writing at the University of Arizona.
Reese Arbini ("A Voyage Need Not Be More Than a Ride Home"), who is doing her M.A. in literature and writing at the University of Virginia.
Unearthing Lost Mementos
By Emma McGill
It was the summer my friend had just graduated. We found ourselves cramped inside a stuffy warehouse antique shop off the highway. There, in the corner of the floor, among novelty salt-and-pepper shakers and various knick-knacks, a box caught my eye. Not the box itself, of course, but its contents. Inside was an array of black and white photographs, with the occasional grainy beige that made what they'd captured feel a little more real.
I spent what felt like hours crouching on that cement, cradling decades of photos, taking it in as each suddenly new world unfolded in front of me. I was in the way of other customers, but they moved politely around me and my marvelous discovery.
I snuck my own photographs of the photographs. They were a dollar apiece, so I brought home ten. I wanted to buy all of them. There is one photo, though, likely still sitting in its box, that I haven't stopped thinking about: a man, slightly slouched, casually peering into what looks like a magazine as he sits on the edge of a single bed in the corner of the room. This is one of the photos that I took a snapshot of. I was trying to save storage on my phone at the time, and figured it was unnecessary to capture the name of this man on the back of the photo.(Stan, Ron, John? I don't recall.)
But if I am one of the few people who has witnessed evidence of his existence in decades, who has acknowledged the connection between his face and that name that he went by his whole life, the name he heard in the song of loved ones' voices, have I served his memory poorly in leaving all but a second-hand picture behind? How am I to know who he really was? How is anyone, now that this moment of his has ended up for sale in the corner of this off-road shop with the dust of old treasures?
There are long, existential periods of time in which I spend doubting myself, questioning whether or not I am actually meant to be a writer in this life, whether or not I have what it takes. Then, there are small but abundant moments of unexpected inspiration that melt my heart and tell me my purpose. Sorting through these lost memories was one of those times. Could I bring those stories, those lives, into a new light?
The smile of a man lounging next to his dog, a young woman in uniform, a traveler posing by a beloved statue. They may not be the same as they were, but if I can write, can't I do so for them? I can never get their stories straight, for their gracing of this earth was one of a kind, but I can certainly try to bring some part of them back to life.